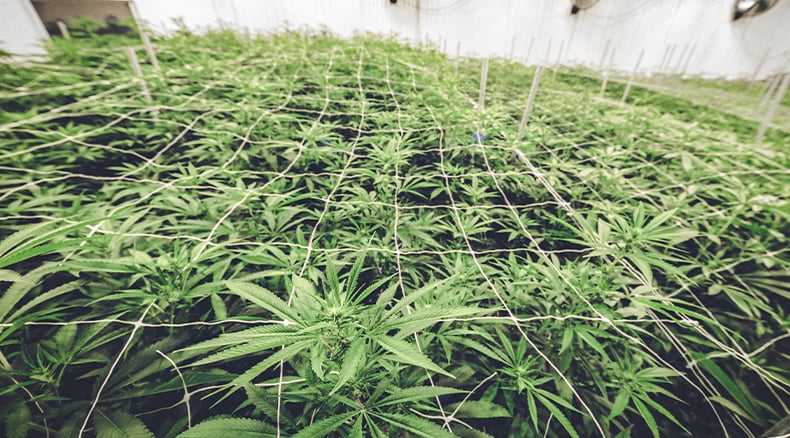 When growing cannabis, it's important to maintain the best growing environment if you want to keep your plants alive and healthy. Temperature extremes can cause physical damage to plants, and excessive moisture can lead to mold and powdery mildew. This means facility managers and personnel must constantly monitor environmental conditions and equipment status to protect valuable crops. However, continuous monitoring can be challenging and time-consuming, especially after hours or during the off-season.
A remote monitoring system can help keep cannabis plants healthy and increase their yields. These systems detect problems such as temperature changes, humidity fluctuations, power outages, low CO2 and unauthorized access. They send an instant notification via email, phone call or text message when conditions fall outside of your preset range. They also help you identify patterns and trends in environmental conditions and get insight into larger issues before they impact your plant yields.
Here are the top considerations to make when choosing a monitoring system for your cannabis growing operation.
Base Units and Sensors
The first thing to consider is how many conditions you need to monitor in your facility. Each condition that you want to monitor requires its own input on the base unit of the monitoring system. Make sure you find a system that has enough inputs to fit your needs.
For a smaller cannabis facility, the best option may be a lower-cost, non-expandable monitoring system. However, larger facilities have many monitoring points and more people to contact when there's an issue. If you're planning for future growth, an expandable system may be a better fit for your cannabis operation. That way, you won't have to replace the entire system in the future.
Additionally, your system should have an internal rechargeable battery backup to provide uninterrupted power when the power fails. It is recommended to have each base unit sealed in an enclosure to protect it from moisture, dirt and chemicals.
Sensor placement is also critical. For example, temperature sensors should be placed throughout your growing area to ensure full coverage. They should be placed next to your thermostat and in the center of the facility out of direct sunlight.
Wireless or Hardwired Sensors
Remote monitoring systems are available with either hardwired sensors or wireless sensors. Hardwired sensors connect directly to the base unit using standard electrical wires. Typically, trenching long distances for wires is time-consuming and expensive. The cost of installing hardwired sensors depends on several factors:
Size of the monitored area
How many sensors you need to install
How easy it is to access the internal network and cabling
A wireless system has some advantages. It communicates with the base unit using built-in radio transmitters, so no trenching is required. These types of systems are ideal for growing facilities that are planning to expand their operations in the future. With a wireless system, expanding your monitoring area is quick and easy because you don't have to run additional wiring through walls, floors or ceilings. Some remote monitoring systems can support a combination of hardwired and wireless sensors.
Communications to Your Site
Cellular options are available for locations that don't have access to a landline or Internet connection. Monitoring systems that use cellular communications must be registered on a wireless network before you can send or receive messages. You will also need to ensure that there is sufficient signal strength at your facility. It is a good idea to check the signal quality in your area before you purchase a cellular product. For locations with improper coverage, an antenna can be used to strengthen the cellular signal.
Alarm Notifications
When choosing a monitoring system, it is important to consider how you want to set up alarm notifications. Monitoring systems immediately send an alert to designated personnel whenever they detect a threat to your facility. If you don't want to send a notification to all personnel, some systems let you customize alarm functions to notify different people depending on the time of day or the specific issue.
Your system should provide multiple communication methods (e.g., email, phone call and text) and continue to make phone calls until someone responds. You should also consider the number of people the system can notify.
Programming and Status Check
If you're responsible for maintaining a cannabis facility, you want a monitoring system that provides real-time status of all monitored equipment and conditions. There are a few different ways you can access sensor readings with monitoring systems. You can call in to check status, view a web page (either on a local network or the cloud), or open the app on your mobile device.
With a cloud-based system, you can monitor real-time status, make programming changes, and review data logs from anywhere. If you don't select a cloud-based system, you will have to log in through a local area network to access status conditions.
Data Logging
One of the greatest advantages of a remote monitoring system is that it can also function as a data logger. The system automatically records tens of thousands of data points, dates and times. It provides an unlimited number of records that users can view, graph, print and export.
This information can be useful in identifying patterns and trends in your cannabis facility. For example, if the data log shows power fluctuations occurring at regular intervals, it could indicate a more serious problem. Or if the data shows signs of a ventilation fan or lighting beginning to malfunction, they can be repaired or replaced before operational failure occurs.
Return on Investment
Purchasing a remote monitoring system is an important decision. When deciding how much to pay for a monitoring system, add up the entire cost (fully installed with additional equipment and sensors) and any installation fees. Then compare that cost to the value of your plant inventory and growing equipment. Finally, consider how much it would cost you if an environmental issue shut down your operation for some time.
Whatever monitoring system you choose, this device will provide an extra line of defense by continuously monitoring your facility. Whether you are on-site or off-site, you are always aware of the critical conditions that threaten your property and plant inventory.