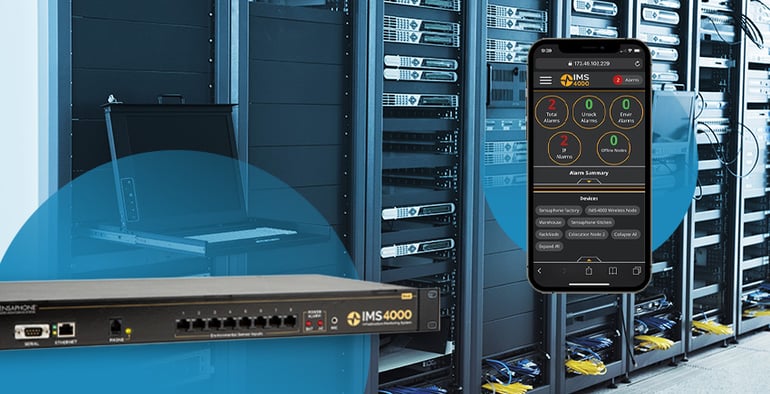 We are excited to introduce our redesigned infrastructure monitoring system. Based on the performance success of its predecessor, the new IMS-4000E system provides upgraded functionality and peace of mind to business managers who rely on server rooms as the center of IT operations. We have sold more than 6,000 host units worldwide to date.
Advantages of On-Site Server Rooms
While data centers have become quite expansive, many companies still house all or most of their IT infrastructure on site.

Some businesses choose to run and maintain their own server rooms because they desire in-house control of their data, software and hardware, rather than handing it over to a commercial data center. Having all their hardware and related equipment located in a dedicated area of the business' premises allows them to modify and customize systems as needed. It also enables more efficient communications between IT personnel and individuals in the company who need tech support.

Only designated personnel have physical access to the server room, which ensures the physical security of the equipment. Having the IT team determine who, when and why someone can access the network or infrastructure helps some organizations meet internal and regulatory security requirements. And in this era of remote working, businesses that have their employees connect to in-house servers retain control and oversight of their digital information.

When servers are kept on the premises and not at a distant data center, a business's dedicated IT staff can quickly respond to urgent incidents. Personnel can help to maintain uptime of the physical infrastructure by monitoring for threats like water leaks, fire, power outages, unauthorized physical access, temperature fluctuations and humidity changes.

Benefits of the IMS-4000E System for Server Rooms

Like previous versions of the IMS-4000 system, the IMS-4000E system identifies potential problems before they become disasters. It monitors conditions like temperature, humidity, line voltage, water leaks, server response, UPS system, smoke, sound level, motion, room access, airflow, and power outage.

When a sensor detects that conditions have moved out of the desired range, the host unit immediately notifies designated personnel via voice telephone call, email or SMS message. If the network goes down and these messages cannot be sent, the IMS phone line will activate its backup alarm.

The IMS-4000E features:
• A new single-pane view of environmental and network equipment monitoring
• An upgraded web-based user interface, to program, log data and access data from any network-connected computer.
• Responsive mobile interface to view host and node data from one screen on any smartphone, tablet or computer.
• Increased security
• Boosted processing power

The IMS-4000E host unit is rack-mountable and supports up to eight environmental sensors, as well as IP-device monitoring to ensure component availability across the network. It is expandable le to 31 nodes to monitor sensors.

Additional Server Room Solutions

For server room operators looking to monitor sensors integrated into micro-controlled equipment, we offer the Stratus EMS device. The Stratus EMS reads the values over Modbus RTU/485 and Modbus TCP to monitor the status of devices like uninterruptible power supplies, net meters, protocol data units and HVAC systems.

Because it is cloud based, personnel can easily view the status of equipment and quickly modify sensor settings via the app. The Stratus EMS system sends instant alerts when values fall out of range—all without adding additional wiring and sensors. When paired with the proper sensors, the system can even provide a comprehensive view of power consumption in your server room.

To learn more about monitoring server room environments, contact a Sensaphone expert today.