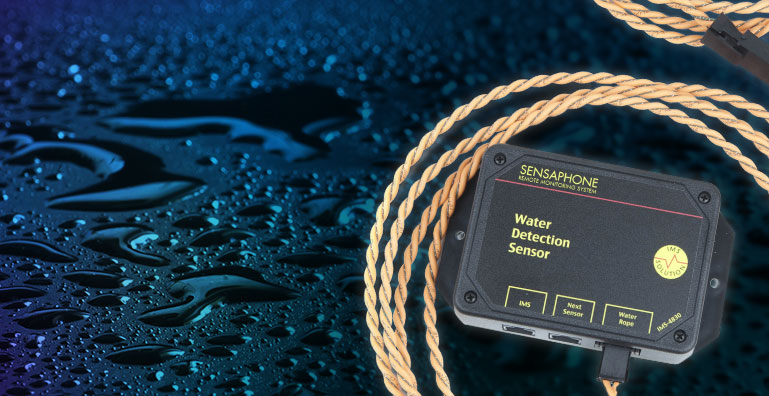 Damaging water can enter your data center from environmental events like floods, as well as from equipment failure, leaks and broken pipes. But it's easier and less costly than you think to protect your server and IT equipment from water damage using water detection sensors. To monitor a surface for water leakage, simply connect an IMS-4000 water sensor and a water detection rope to a Sensaphone IMS-4000 monitoring system.
Typical sources of water leaks:
Leaking air conditioner condensation pan
Broken coolant feed line
Leaky or broken water pipe
Leaking roof or window
Leaking water feed
How to install a water sensor
To monitor for water leakage under a raised floor, place or mount the IMS-4000 sensor near the area you'd like to monitor for water leaks. Then simply connect the water sensor rope and connect the sensor to the monitoring host or node with an RJ-45 patch cable.
Cabling
The water sensors are powered by the IMS-4000 host or node when a patch cable is plugged into the sensor's IMS jack. The host will automatically detect and load default programming for the water sensor.
It's easy to connect sensors to hosts or nodes using your existing network wiring infrastructure, so you can easily install sensors in other rooms or floors. Just use an RJ-45 jack to connect the sensor to your structured wiring network. At the other end, connect a patch cable from your wiring patch panel to any IMS-4000 host or node's sensor input. Remember that sensors are not TCP/IP devices. That means they should not be connected directly to any wiring infrastructure that is connected to network equipment like hubs, routers or switches.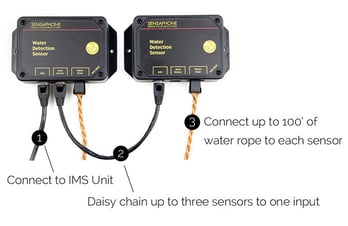 Connecting water rope to a water detection sensor
Water ropes can be placed on the floor in areas around potential leak sources like water pipes and air conditioning units. Installation is easy. Simply plug the water rope's connector into the socket labeled "water rope. Then string the rope over the surface you want to monitor. To gain a length of up to 100 feet, plug up to 9 additional sections of 10-foot rope end-to-end to each water detection sensor. Be sure to use the adhesive clips to ensure the rope lies flat on the installed surface.
Extending the reach of water sensors
To monitor a large area, you can connect up to 3 sensors to each IMS-4000 host or node sensor input. Connect the first sensor to the host or node as described above. Then connect the "next sensor" jack on the first water sensor to the IMS jack on the second water sensor with a CAT5 patch cable.
Sensor configuration
All IMS sensors auto-configure to the factory default defined in the sensor template when you plug them into a Host or node. If you have modified these templates the configuration will be set to the modified configuration. When you remove a sensor or disrupt its connection, the configuration data remains intact but the sensor will go into "trouble" status and generate an alarm. When you plug the sensor in again or reestablish the connection, the configuration data remains unchanged and the sensor returns to a normal operating condition.
Call us with any data center monitoring challenge!