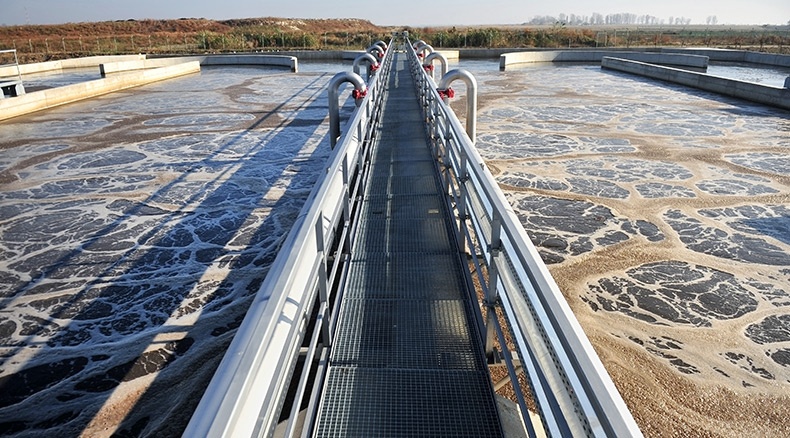 One of the biggest challenges of monitoring multiple water and wastewater facilities is maintaining real-time visibility of critical conditions at all sites. Facilities need to provide safe drinking water and protect the environment from contaminants. That means water and wastewater treatment plants have to ensure continuous monitoring of conditions like pump status and tank level.
Today, many water and wastewater treatment plants are using remote monitoring systems to monitor the status of multiple locations. Monitoring equipment like the Sentinel™ PRO alerts you to issues that threaten your unattended sites.
The Sentinel PRO
The Sentinel PRO offers a low-cost way to monitor conditions at unattended pump stations, wells and tank farms. The system notifies you immediately of any changes in status, including:
Power failures

Tank level

Changes in pressure

Temperature fluctuations

Equipment malfunctions
If any of your monitored conditions reach dangerous levels, the Sentinel PRO sends an instant notification. You can set up the device to send alerts via a phone call, text message or email.
Seamless integration with Modbus sensors
The Sentinel PRO can monitor data from third-party Modbus sensors, transducers or programmable logic controllers (PLCs). The system supports Modbus RS-485 and TCP protocols. One Sentinel PRO unit can monitor up to 64 Modbus registers and 12 different digital or analog status conditions. The system allows you to use the existing controller's configuration without adding additional sensors.
Access data from a cloud-based dashboard
The Sentinel PRO gathers data and sends it to the cloud, so that you can access it remotely at anytime. You can check the status of multiple locations through Sensaphone's website or the iPhone/Android app. You can also set alerts, acknowledge alarms, generate reports and review data.
The Sentinel PRO system also functions as a data logger, which allows you to record and store data over time. It allows graphing of monitoring points from any selected date range, a summary of data points, alarm logs and more. The system is Ethernet-based, but satellite monitoring options are available for remote sites without phone lines, broadband or cellular service.
In addition to the Sentinel PRO, Sensaphone offers a full line of water and wastewater monitoring equipment.

SAT4D Satellite-based Monitoring System
The SAT4D system is ideal for remote locations where telephone, Ethernet and cellular connections are unavailable. Because the SAT4D communicates via satellite, it can be used virtually anywhere throughout the United States and many other countries. It can monitor up to four conditions 24/7, including tank floats, security, pump status and power failure. The system can be programmed to send notifications to up to eight telephone numbers and six email or text messages.
Express II
The Sensaphone Express II monitoring system provides 24/7 monitoring of critical conditions such as pump failure and tank levels. This system is ideal for large facilities that require many monitoring points or are planning future expansion. The system can send alerts to up to 48 people and is expandable to up to 40 input/output channels. In the event of a power outage, the internal rechargeable battery backup provides 12 hours of continuous monitoring and alerts.
Sensaphone 1400 & 1800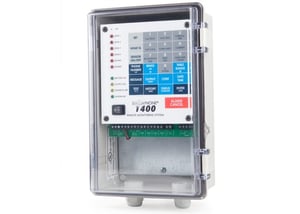 The Sensaphone 1400 and 1800 systems offer an easy and inexpensive way to monitor smaller operations 24/7. When an alarm occurs, these systems send notifications to up to 8 people with custom phone calls. An internal rechargeable battery backup provides 24 hours of continuous monitoring and alerts in the event of a power outage.
Sensaphone Water Quality Sensors
Sensaphone water quality sensors help water treatment facility operators ensure that water is safe and clean. These sensors monitor oxidation-reduction potential (ORP), pH, dissolved oxygen (DO) and toroidal conductivity. The sensors are compatible with most Sensaphone remote monitoring systems, which send an immediate alert to personnel when conditions fall outside of the preset range.
Sensaphone Vibration Sensor
Sensaphone vibration sensors continuously monitor changes in vibration level. Detecting these changes early on helps to prevent equipment failure and expensive downtime. The sensors can be permanently mounted on water facility equipment like pumps, motors and generators. They are compatible with monitoring devices that accept a 4-20 mA input.
Using Remote Monitoring Technology to Prevent Pump Downtime
Sensaphone is Showcasing at WEFTEC 2018
If you would like to learn more, we will be exhibiting at WEFTEC 2018 in New Orleans on October 1-3. We will be showcasing the Sentinel PRO as well as our full line of remote monitoring devices and sensors for the water treatment industry.
If you're attending this year's WEFTEC, be sure to stop by and visit us at booth #744. We can answer any questions you may have and help you find the right solution for your facility. Hope to see you there!