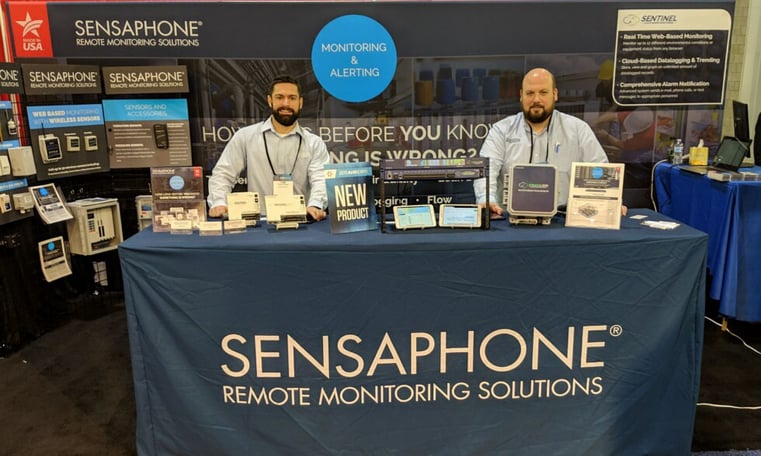 Sensaphone recently exhibited at the International Air-Conditioning, Heating, Refrigerating Exposition (or AHR Expo) in Atlanta. It's the world's largest HVACR event, bringing together industry professionals from around the world to share ideas, showcase new technology and discuss trends. This year's expo was a huge success with more than 45,000 people attending.
The show gave us a great opportunity to meet with specialists from across the entire industry. Throughout the three-day show, we spoke with lots of customers, contractors, hotel and apartment building managers, and data center engineers. Here are some of the key applications we discussed with attendees:
Boiler and chiller monitoring for preventive maintenance
Temperature monitoring for walk-in refrigerators/freezers
Monitoring critical conditions in data centers and server rooms
Medical-grade cold storage units and ultra-low freezers
Delivering alarms and datalog inputs/outputs from Modbus inputs and BMS systems
Stratus EMS Remote Monitoring System for HVAC Equipment
At the show, we featured our new Stratus EMS remote monitoring system, which is ideal for HVAC professionals. We were excited to see that a number of attendees were interested in this system. It was especially popular with individuals who need to monitor conditions in data centers or install data center equipment.
The Stratus EMS is a cloud-based, rack-mounted monitoring system. It provides real-time status of monitored equipment and environmental conditions from a smartphone, tablet or computer. It can monitor up to 64 Modbus registers and 12 universal digital or analog inputs for HVAC equipment, boilers, chillers, and refrigeration and cold storage units. The Stratus EMS stores data in the cloud, so users can change settings, disable alarms and readjust temperature limits from the mobile app or website.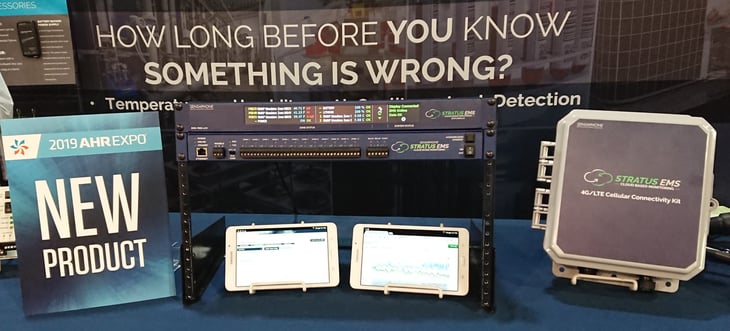 The system makes it easy to directly monitor critical conditions like temperature, humidity, pressure, pH, conductivity, power or equipment failure, vibration and water leakage. It can read data from building automation and uninterruptible power supply systems and instantly notify you of readings outside of preset parameters. When the system goes into alarm, it sends notifications to designated personnel via text message, email or phone call.
The Stratus EMS is currently available with an optional rack-mounted LCD that displays data onsite. There is also a cellular version for locations that don't have an internet connection or for locations where the system can't be used on the same network as the equipment it is monitoring.
In addition to the Stratus EMS, we offer a wide range of other remote monitoring systems and devices for HVAC environments. If you need help finding a solution, contact us today!