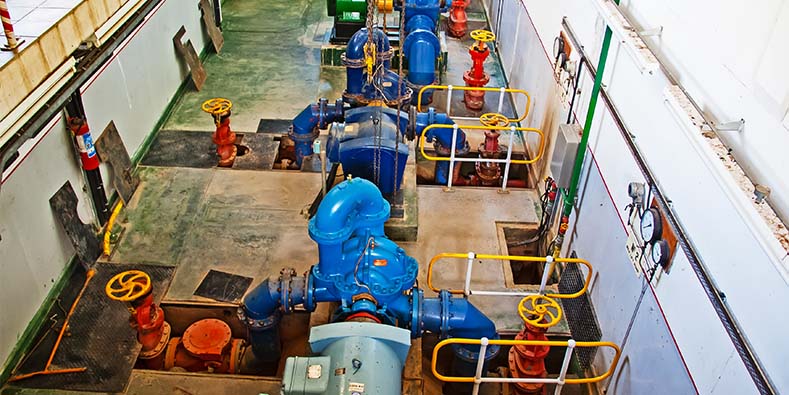 The industrial internet of things (IIoT) uses the internet and sensors placed at critical points on mechanical equipment to send data to the cloud for limitless storage. You can access this information to control systems, monitor conditions and analyze data. Of course, this technology has revolutionized facility management. Now you can easily access data around the clock whether you are working on-site or remotely to assess real-time equipment performance. You can also review historical data to foresee malfunctions before they become complete mechanical failures.
IIoT and Wastewater Facilities
Cloud-based remote monitoring systems are ideal IIoT solutions for reducing equipment downtime at wastewater facilities. They are especially useful for keeping watch on remote and on-site pumping stations that must run 24/7 to keep the wastewater flowing. However, operators often don't have staff available to constantly check the sites and assess conditions. A malfunction could lead to operational downtime, clean-up costs and fines if it causes the wastewater to discharge into the environment.
Remote Monitoring Keeps Pace with IIoT
For decades, remote monitoring devices called alarm dialers (also known as auto dialers) have been the standard tool for water facility operators to receive status information and alarm notifications from pump stations. Auto dialers communicate through a traditional telephone line (POTS) and are programmed via a keypad.
Today, copper telephone lines are becoming obsolete and increasingly unsupported by major telecommunications companies. And auto dialers can't provide the level of service needed to meet the demands of the IIoT age.
IIoT Remote Monitoring of Pumping Stations
An advanced cloud-based remote monitoring system installed at staffed and unattended sites is an IIoT tool that improves operational efficiency. It sends an immediate notification to designated personnel when it detects a questionable sensor reading. This means you can troubleshoot immediately to prevent a serious problem. The system consists of a base unit that constantly collects data from existing equipment and sensors positioned at key places at the site. Each monitored condition requires its own sensor input on the base unit. You can access the data any time via an app, website or phone.
Cloud-based technology lets you check conditions of multiple wastewater locations, access pump run-time and flow reports, check specific equipment status and review alarm history. These systems also log data automatically, which helps you to recognize trends and improve performance system-wide.
These systems can monitor values pulled from Modbus sensors, transducers and programmable logic controllers (PLCs). This means you can integrate the monitoring system into floats, pump alarm outputs, level transducers and other equipment. For additional monitoring, you can connect external sensors to keep tabs on temperature fluctuations, flow rate, power failure and security breaches.
Storage and Security
Cloud-based systems are supported by networks of remote servers, which means they can store huge amounts of data. Monitoring system providers ensure data security by using private cloud services to prevent public access. These cloud platforms are monitored around the clock, and providers use multiple backup server sites across the country to ensure the system is always up and running. Based on your pump house locations, you can install a monitoring system that connects to the internet, or you can select one that is equipped with a cellular modem.
If the internet or cellular connection is lost, the monitoring system sends an alert to designated users via phone, text or email. The good news is you don't have to worry about losing data if the cloud connection is interrupted. All information gathered during the outage is stored in the device and is uploaded to the cloud when the connection is restored.
Data Logging and Retrieving
Industrial IOT technology has transformed data collection and logging. Cloud-based monitoring systems use IOT technology to store an unlimited amount of data. You can use this information to identify trends that can improve pump performance, optimize operations and detect potential problems. You don't have to bother anymore with chart recorders, logbooks and manual data logging. A data logger communicates with sensors at a set interval and automatically records data points, dates and times.
To learn how you can select or upgrade a monitoring system at your facility to keep pace with IIoT, contact a Sensaphone expert today.