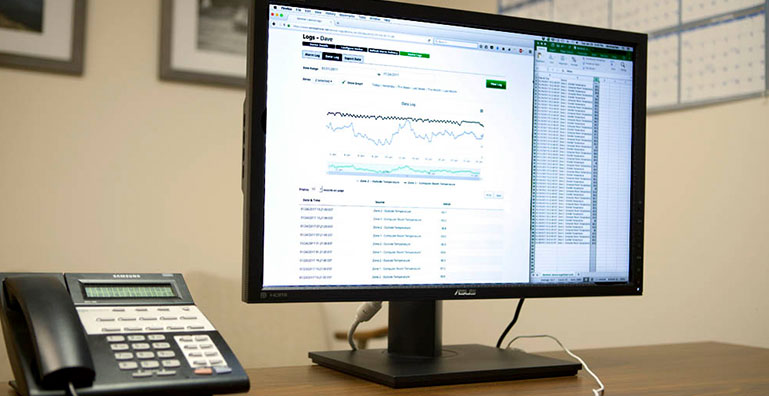 Data loggers play an important role in many industries by monitoring different environmental conditions. Their primary function is to ensure the correct operation of equipment, maintain product quality, ensure facility safety, and meet regulatory standards.
They can track a multitude of parameters, and their cloud-based capability means operators don't need to be on-site. For instance, they can monitor temperature in server rooms, humidity in greenhouses and farms, and the exact temperature inside food and beverage storage freezers.
The medical sector, including hospitals, blood banks, and clinics, heavily relies on data loggers. These institutions house critical and costly items like vaccines, blood supplies, tissue samples, and medicines. Ensuring the right storage temperatures for these items is vital. For context, whole blood needs to be kept at at 1 - 6 °C (34 to 43°F), while fresh frozen plasma should be stored at -18°C (-0.4°F) or colder. It's alarming that nearly 50% of vaccines are wasted every year globally, as reported by the World Health Organization, mainly due to temperature control and logistic challenges.

Data loggers function by receiving measurements from sensors placed in these critical environments. These measurements are then stored in the logger's memory. In the medical field, most data loggers are standalone units. Data from these units need to be transferred using a USB drive to a computer system. Notably, many of these devices are costly and can only monitor a limited number of sensors simultaneously.
Cloud-based data logging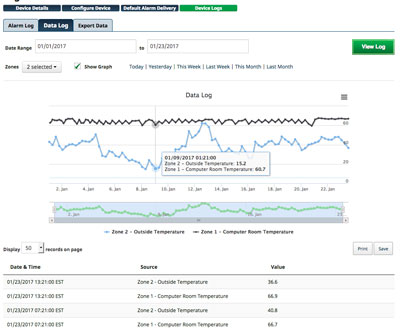 Sensaphone's Sentinel monitoring systems function as cloud-based data loggers that allow operators to remotely oversee environments and ensure the stability of climate-sensitive goods without being physically present. They also meet compliance standards, facilitating data logging, audit trails and reporting.

These data loggers efficiently gather data from sensors and send it to a cloud platform. This ensures that designated staff can access real-time data without delays, keeping them informed about various environmental conditions. The Sentinel monitoring systems fetch and transfer data in real time. The data log records can be set to user specified intervals.

Here's how it works: An external temperature sensor is wired to a Sensaphone Sentinel device and positioned in the desired monitoring location. Unlike other traditional data loggers that typically support just one or two sensors, these cloud-based loggers can connect to up to 12 sensors. This capacity allows for monitoring a range of conditions, from temperature and humidity to other relevant parameters.
Once connected, the Sentinel device gathers the data and saves the readings to the cloud. Personnel can then access this data through a web-based interface, making the process of data retrieval simpler and more efficient than manual uploads to computers.
Alarm Notification
Sentinel data loggers come equipped with an alarm notification system. This system can alert an unlimited number of contacts through calls, texts, or emails if there's an abnormal condition. For instance, if temperatures reach levels that could jeopardize medical supplies or inventory, the Sentinel Monitoring System will send out notifications.

Setting up these alarms is user-friendly. One simply needs to log into the device's website and define the desired parameters. With these real-time alerts and status updates, users can feel assured that their equipment and processes are functioning optimally, eliminating the need for frequent manual checks.
The Sentinel's ability to connect to up to 12 sensors allows it to monitor multiple refrigerators and freezers concurrently in facilities like hospitals or medical centers. In addition to using a temperature sensor to data log the temperatures inside the freezer, Sensaphone recommends monitoring the freezer's power circuit. By monitoring alarm panels on the refrigerator or freezer, users benefit from enhanced alert systems and redundancy that a basic data logger can't offer.
More than just temperature logging
Sensaphone's cloud device isn't limited to just temperature logging. It's sensor inputs are universal, meaning it can connect with a range of sensors, including temperature, dry contact, and 4-20mA sensors on any of the device's twelve inputs.
Using a 4-20mA sensor for data logging can offer insights into various site operations. This includes tracking the power usage of pumps, measuring well or gas tank levels, and monitoring water pressure. It can even log extreme temperatures in furnaces or ultra-low freezers. Essentially, these sensors are equipped to oversee almost any operation.
Both The Sentinel and Sentinel Pro monitoring systems are able to log data from a wide array of equipment. They don't just gather information from multiple sensors; they can also extract data from existing control systems, making it accessible remotely. Additionally, the Sentinel Pro offers users the ability to observe and log data from programmable logic controllers and existing building automation systems.
What to look for
When looking for a data logger, keep the following in mind in relation to the size of your operation and what you want to monitor and log:
Flexible communication methods – Do you need a standard Ethernet connection, WiFi or cellular connection to communicate your data and send alarms? Systems today offer comprehensive capabilities but are easy to install without getting IT people involved. You should be able to simply plug the device into a live internet connection (via an Ethernet jack, WiFi or cellular service), and it starts working.


Cloud storage – Cloud service provides unlimited data and event logging for safe, secure information storage. When your data is sent to a cloud server, you can access it by creating an account to manage your monitoring device(s). Monitoring/logging systems that are not cloud-based store data internally and overwrite older information.


Self-monitoring – Cloud-based monitoring systems are self-supervising, which means the cloud can alert you if the system fails to connect. If the communication link is interrupted, these systems generate an alarm indicating that the internet connection is lost or that there is a cellular communications problem. F

or example, the connection could be disrupted by a power outage or someone accidentally switching off the unit.

When this happens, users receive an alert by phone, text or email.


Manage multiple devices – If you anticipate facility expansion, make sure you can add as many monitoring/logging devices to your account as needed. It's possible to manage hundreds of devices from one account. Data from each device can be viewed from one dashboard.


Mobile app – Mobile access allows you to manage your monitoring system and check data from your phone or tablet. It's a quick and easy way to remotely access trending reports, check specific equipment status and review alarm history.


Report generation – Ideally, the system will give you the ability to view your entire facility's performance from anywhere at a moment's notice. Moreover, you want the system to generate custom reports as a PDF, CSV or text document. These reports should be based on the parameters and pre-defined intervals that you set.
With these tips in mind, you can select the best monitoring and data logger system to help maintain operational efficiency, uphold quality assurance and meet regulatory compliance.

Our team would be happy to help you with this selection. Find our more American-made SENSAPHONE remote monitoring Solutions or contact our sales team.