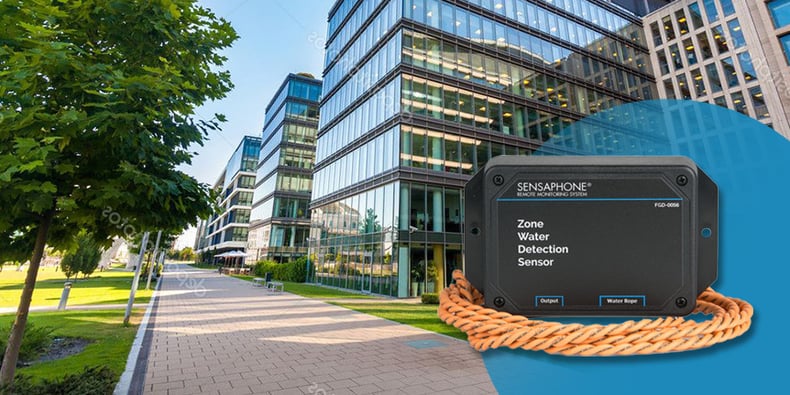 According to insurance industry research, every day, 14,000 people across the United States must deal with a water-damage emergency at home or work. Permanent impairment to property usually occurs after 24 hours, adding up to $2.5 billion in repairs each year.
When managing different facilities, moisture is one of the most critical environmental conditions to keep an eye on. This post is the third in our series, 'Know Your Environmental Threat' series, and it looks at how moisture monitoring protects value assets across different applications such as data centers, food and beverage cold storage facilities, and residential facilities.
Server Rooms and Data Centers
If you're responsible for overseeing server environments and their critical information technology hardware, you must have access to instant notifications that alert you to potential environmental problems. Specifically, water leaks that occur in your data center can compromise your servers, gateways, and routers, and you need to know about them as soon as they happen.
Water, information technology equipment, and electricity don't tend to mix well. Unfortunately, there's always a chance that a pipe may burst, an A/C unit or cooling system may begin to leak, or a sprinkler system may start to malfunction. When these water-related issues occur, moisture can threaten your data center's equipment and even lead to a major shut down.
You need to rely on early detection to get the amount of lead-time you need to keep major shutdowns from happening. To do this, you'll want to use a water detection rope or a zone water sensor that you can connect to a Sensaphone IMS-4000 monitoring system.
With these devices in place, you can continuously monitor surfaces in your data center for water leakages. Sensaphone's water detection sensors can cover as much as 100 square feet of your data facility's floor space, and they can spot typical sources of water leaks such as A/C condensation and leaks, natural water/groundwater leaks, and water-cooled server rack leaks.
Properly placing your water sensors is key to effectively monitoring for water leaks in your data center. Water generally accumulates at your floor's lowest point or beneath A/C units and pipe junctions. This means that if you place a water sensor too high up, you won't receive any alarms if a serious flood occurs until it's much too late. You should therefore fit the whole perimeter under your raised floors with leak detection ropes that go along pipes that carry water throughout your facility.
Sensaphone water detection sensors are easy to install and set up. Once you've placed the sensor's water rope near the area that you need to monitor for moisture, you connect it to the monitoring IMS-4000 host device using an RJ-45 patch cable.
For large data centers, you can also extend the reach of your water sensors by connecting two or more sensors in a string by connecting into their IMS jack using a CAT5 patch cable.
Food & Beverage Cold Storage Facilities
Overseeing frozen or refrigerated food inventory requires that you constantly anticipate disaster, especially if you aren't on-site all the time. If foods aren't constantly stored at the right temperature, you could face significant losses in terms of spoiled inventory.
And water leaks are a first clue that there is a power or equipment problem with refrigerators and freezers.
To mitigate these risks, use a Sensaphone remote monitoring like the WSG30 to constantly monitor critical conditions including water leaks, floods, and water seepage. It can monitor water seepages and leakages as well as making sure temperatures inside the equipment range between -109 °F to 115 °F. You can connect as many as 30 external sensors and notify up to 32 colleagues via email or text message.
This device is ideal for expanding facilities because it supports as many as 30 wireless sensors and can log as many as 67,000 incident records from any web-enabled device.
Residential
Vacation home owners need to remotely monitor property for water-related problems caused by leaking pipes, leaking water heaters, failed pumps, power outages or extreme weather incidents. Water can inflict significant damage to your property and cost thousands of dollars in repairs, but Sensaphone systems reduce those risks.

Our WEB600 monitoring system paired with our zone water detection sensors provides instant notification if it senses water pooled on the floor. You can connect up to six sensors to this system.
If you need to monitor a large area or more than one area, use zone water detection sensors. These rope-style sensors detect the presence of water on a floor or in a false ceiling so you can monitor areas like their basements and crawl spaces. Each sensor operates on two AA batteries and comes with 10 feet of rope. You can string together up to 10 water ropes to cover a wider area.
The system will notify you via SMS messages, or email if water touches one of the water ropes.
Avoiding a Boating Disaster
Keystone Shipping based in Duluth, Minnesota uses a Sentinel remote monitoring system to protect their fleet of ships while in layup. Although the ships aren't laid up in deep enough water to actually sink, their expensive electronics and other components are subject to water damage. Destruction can also occur if heating systems fail, resulting in engine room temperatures that are too high or low.
Among other things, the Sentinel monitors for high water, which results from leaks. The system connects to their ships' onboard network consisting of cellular systems backed by satellite. Keystone personnel have the Sensaphone app installed on their phone so they can check ship status regularly.
The presence of water and other liquids inside buildings, cargo transportation units, boats and homes can lead to expensive remediation costs. To avoid major damage, it is beneficial to employ an effective, ongoing moisture monitoring system.
Catching an issue promptly and with efficiency is the best way to prevent large-scale injury to businesses and properties. To learn how you can select or upgrade a monitoring system at your facility, contact a Sensaphone expert today at 877-373-2700.