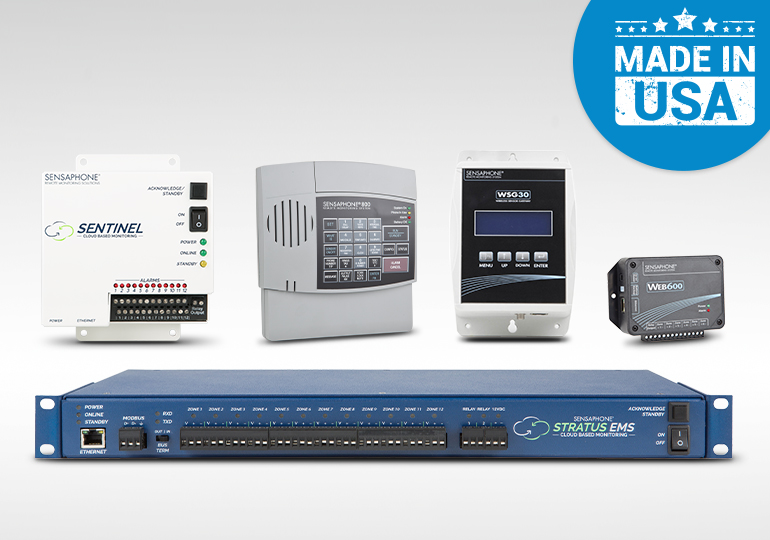 Looking to buy a remote monitoring system? Consider Sensaphone, a family-owned American electronics manufacturer that designs, builds, supports, and sells a comprehensive line of remote monitoring products. All of our products are made in the USA, which positively impacts quality control and allows for better customer service.

Our focus is on designing, building, supporting, and selling a wide range of remote monitoring products. These products are designed to safeguard valuable assets by monitoring critical environmental data, including temperature, humidity, and power failures.

We take pride in the fact that all of our products are manufactured domestically in our facility located in the Philadelphia suburb of Aston, PA.

Why does it make a difference that our products are made in the USA?


1. Positive Impact on Quality Control
Sensaphone builds its own printed circuit boards (PCBs), the heart of our remote monitoring systems. By "printing" paths of copper onto a fiberglass material, electronic signals are routed properly to make a functioning Sensaphone.

Electronic components, often numbering in the hundreds, run through an automated process that mounts them onto the circuit board. The boards are then assembled into the device's housing or enclosure, boxed, packed and shipped to our customers. Our product quality is second to none.
2. Sustainability
Over the years, the materials associated with PCB assembly have become safer to humans and the environment. In accordance to the international directive known as RoHS (short for Restriction of Hazardous Substances), six hazardous chemicals have been removed from electronic assembly.

Most notable of these six substances is lead, which was heavily used in solder just a few years ago. Sensaphone is one the forefront of sustainability and ensures components and materials used for its products are RoHS compliant.

3. Better Customer Service
With in-house expertise on every segment of the business, Sensaphone provides excellent customer service from engineering a customized solution through to implementation and startup.

You never connect to a call center when you need answers to questions or troubleshooting assistance. You always connect to someone in our business that you can trust.

4. Meet Promised Delivery Times
As we create our own PCBs and manufacture domestically, we can more easily meet promised lead times than our competitors who rely on foreign resources. Product cost is lower as we don't upcharge for our logistic expenses. Cost of delivery is also lower as everything is shipped domestically.

5. An American Dream Supported by American Workers
Sensaphone was founded by Ken Blanchard in 1985. Serving as a commander in the US Army in Korea and working at Gulf +Western, he realized the potential of a remote monitoring concept. Purchasing their experimental product line of devices, he created the Sensaphone line of remote monitoring products.

During the early days, the company had a few employees in the basement of his home. Fast forward thirty years and the business has grown to employ over 40 individuals supporting all segments of the business including: electronic and software engineers, a production team, sales and marketing, shipping and receiving, support and repair technicians and management.

A True American Manufacturing Company
Sensaphone company-built printed circuit boards are the heart of their remote monitoring systems. The company's products are assembled domestically, ensuring that promised lead times are met, costs are lower, and logistic expenses are not up-charged.

We adhere to RoHS directives, removing six hazardous chemicals from electronic assembly to promote sustainability. The company provides excellent customer service through in-house expertise and a dedicated support team.

Why do you need a Remote Monitoring System?
Industries rely on Sensaphone remote monitoring systems to gain control over operations, especially in remote and challenging locations. These solutions provide real-time status updates on equipment, facilities, assets, and critical process conditions, as well as 24/7 alerts on power outages, equipment failures, unauthorized access, network interruptions, and processes that exceed set limits.

In critical applications, such as monitoring vaccines, Sensaphone devices ensure that assets are not compromised due to temperature fluctuations. They can also replace manual tracking methods and can be easily configured to send data and messages directly to mobile devices or email.

Additionally, Sensaphone offers a variety of communication methods for areas without Internet connectivity or cellular coverage to address different application limitations and requirements.

A variety of industries can benefit from remote monitoring systems:
• Data Centers: Guards against power and equipment failures, excess humidity, and unauthorized access to IT equipment
• Water & Wastewater Treatment: Monitors flow rates, tank levels, equipment status, and environmental factors.
• Oil & Natural Gas: indicates high tank level, pump failures, low water pressure, compressor status, flow rate, voltage, and other conditions.
• Medical Cold Storage: Tracks temperature in medical-grade refrigerators and freezers to protect vaccines, pharmaceuticals, and medical tissue samples.
• Livestock Farms: Provides notifications of poor ventilation, power and equipment failures, High CO2 and humidity levels, and other environmental conditions that can threaten livestock.
• Cannabis Growing Facilities: Maximizes output by protecting against rising/falling temperatures, power outages, high/low humidity, unauthorized access, and other conditions.



Find our more American-made SENSAPHONE remote monitoring Solutions at https://www.sensaphone.com/ or contact our sales team at https://www.sensaphone.com/contact-sales-team.