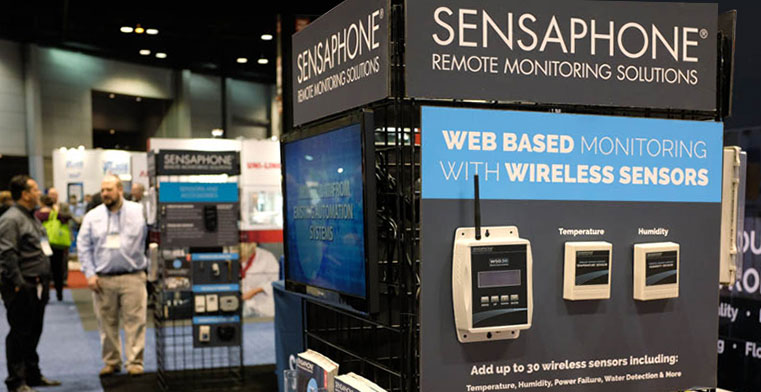 Sensaphone just returned from exhibiting at the International Air-Conditioning, Heating, Refrigerating Exposition (or AHR Expo) in Chicago, which showcases the latest in HVACR technology and innovation. The event was an overwhelming success, with over 2,000 manufacturers and suppliers and more than 65,000 industry professionals in attendance. Attendees came from every state in America and 165 countries worldwide.
There was a lot of traffic at the Sensaphone booth, which was located in the building automation section. We were surrounded by companies that produce sensors and similar products. Grouping together vendors that represent one specific part of the HVAC vertical allowed attendees to browse entire sections for just the items or ideas they were looking for.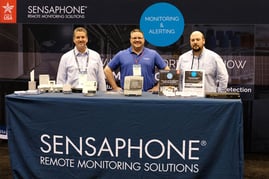 This show provides a great opportunity to interact with and get feedback from customers who serve a variety of vertical markets. We spoke with a wide variety of customers, from contractors to design engineering firms to builders.
Here are some of the applications we discussed at the show:
Walk in freezers/refrigerators for fast food restaurants and schools
Monitoring temperature, RPM and vibration of industrial fans
Boiler and chiller monitoring for maintenance
Independent water and energy consumption monitoring and reporting
Temperature monitoring in medical grade refrigerators and cryogenic and ultra low freezers


Sentinel PRO for HVAC Remote Monitoring
We always enjoy meeting customers at the show—the contractors and users of our products. We featured the Sentinel PRO monitoring system, which is ideal for customers who work with Modbus. The Sentinel PRO system improves HVAC remote monitoring with easy system-wide integration. It can poll Modbus registers from other equipment and instantly notify you of any readings outside of preset parameters.


Ensure Continuous Monitoring of Your Facility
In addition to the Sentinel PRO system, we showcased our full line of HVAC remote monitoring systems and sensors. Featured products included:
Web600 monitoring system
IMS-1000 monitoring solution
WSG30 monitoring system
Pressure sensors
Our HVAC remote monitoring systems use sensors to monitor critical environmental conditions such as humidity, water leakage, power outages and extreme temperature fluctuations. They alert you to issues before they become serious via an alert by phone call, text or email. This allows you to act fast and prevent downtime or costly damage.
Whatever your monitoring needs, we have the solution for you. If you need help finding a HVAC remote monitoring system or device for your facility, contact us today!