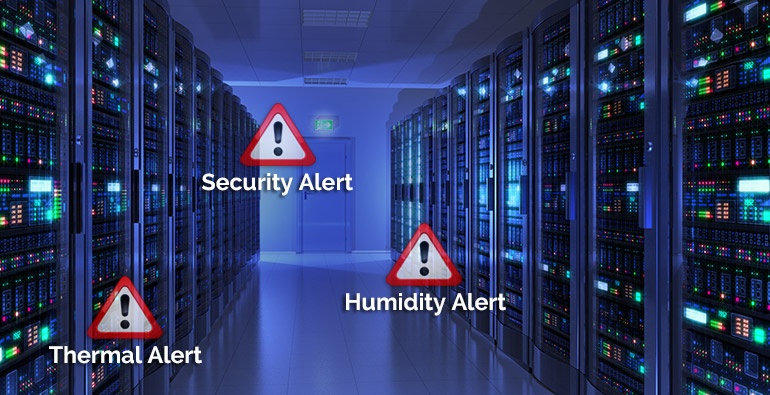 You'll never find a data center without systems to prevent hacking and viruses. That's understandable because cyber attacks get constant news attention and everyone knows they can cause irrevocable damage. However, less flashy threats also lurk in data centers, and these risks are often ignored.

Environmental dangers like heat, airflow, humidity, power fluctuation and water leaks can damage computer equipment and reduce company productivity.
Environmental "events" come in all sizes
Major events like power outages and burst water pipes cause instant damage, particularly when they occur after hours. Other events are slow creepers, like falling humidity, which causes static electricity build-up that eventually damages equipment.
Environmental monitoring systems prevent damage from all of these problems because they "watch" all conditions and alert you immediately to deviations from the norm. Various types of sensors are positioned throughout the data center, constantly reporting their status to the monitoring unit. As soon as a data reading falls outside the preset "normal" parameter, the unit sends an alarm by:
Text
Phone
Mail
SNMP trap
Everything relies on the infrastructure
Air conditioning systems, UPS systems, and back-up generators all need to be operating at peak efficiency to ensure that your servers and network gear continue to run without interruption.
Environmental monitoring systems can simultaneously monitor both the network environment (temperature, power, humidity, etc.) and TCP/IP devices (servers, routers, gateways, etc.) Any device that has a TCP/IP address can be monitored. The system detects variances in environmental conditions and notifies the appropriate personnel before a glitch becomes a disaster.
Environmental monitoring systems can detect:
A down server
An offline router
HVAC failure
Taking immediate, corrective action
In the case of natural disasters or major equipment malfunctions, environmental monitoring systems give data center operators the chance to take corrective action as soon as they occur. And detecting slow-growing environmental changes can prevent equipment problems from happening in the first place. Call us today to discuss ways to protect your data center.