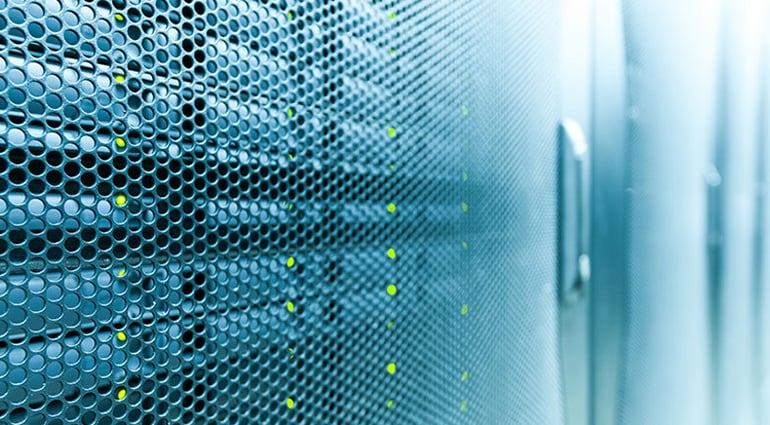 Improving efficiency is a top priority for data center managers. In today's data-driven world, server rooms and data centers play a critical role in keeping businesses up and running. According to Gartner, the average cost of data center downtime is $5,600 per minute. That's why data centers need to have systems in place to ensure continuous monitoring of equipment status and environmental conditions.
There are many steps data center personnel can take to protect valuable equipment and maximize uptime. Some facilities have employees manually monitor servers, but this type of monitoring is expensive and prone to error. Employees can't possibly monitor all conditions and equipment 24/7, meaning issues may go unnoticed for some time.
Remote Monitoring Gives You Peace of Mind
To overcome these challenges, many data center and facility managers are looking to remote monitoring systems to detect issues early and avoid costly downtime. Systems are available for data center monitoring needs of all sizes, from server rooms to network distribution facilities. Sensors can detect changes in vibration, differential pressure, airflow, humidity and more. They then send a signal back to the main unit to notify personnel, allowing them to act quickly and stop downtime before it occurs.
The right monitoring system for your facility depends on a number of factors, including the type of sensors, sensor placement, alarm notifications and more. (Check out this blog to learn more about what to consider when choosing a data center monitoring system.) Sensaphone recently developed the Stratus EMS remote monitoring system, which is ideal for data center facilities and environments.


Real-Time Monitoring of Micro-Controlled Data Center Equipment
The Sensaphone Stratus EMS is a cloud-based, rack-mounted remote monitoring system that delivers real-time status of data center equipment and environmental conditions. Every data center has micro-controlled equipment connected to data and integrated sensors. Using this technology, data center personnel can control and monitor the performance of devices like uninterruptible power supplies, net meters, protocol data units and HVAC systems.
The Stratus EMS pulls data from all of these electronic sources, so you can view it in one place. It supports Modbus RTU/485 and Modbus TCP and is capable of reading data from many IDF, PDU, UPS and building automation systems.
The Stratus EMS can monitor up to 64 Modbus values and comes with 12 digital/analog inputs for connecting to external sensors like:
Vibration
Differential pressure
Airflow
Temperature
Humidity
Power fluctuations
All 12 inputs have a selectable 24 VDC source for each sensor, so you can easily wire sensors that require an operating voltage.


Instant Notifications of Data Center Threats
In order to prevent downtime, the Stratus EMS enables facility managers and IT personnel to easily view the status of all equipment and receive instant alerts when values fall out of range—all without adding additional wiring and sensors. When an alarm occurs, the system immediately notifies personnel via text message, email or phone call.
Because the Stratus EMS is cloud-based, you can check the status of your equipment at any time. The system supports JSON, HTTPS, POST, cURL, REST Web services. A free app is also available for fast status checks on the go and updating parameters or settings on any device.
The Stratus EMS is available with an optional rack-mounted LCD display that displays sensor data on-site, saving you the time of accessing the monitoring system's data logs. An external cellular kit will soon be available for facilities where the system cannot be on the same network as the equipment it is monitoring.
Sensaphone offers a wide range of remote monitoring devices for data centers. Contact a Sensaphone expert today for more information or to find a solution that fits your specific needs.