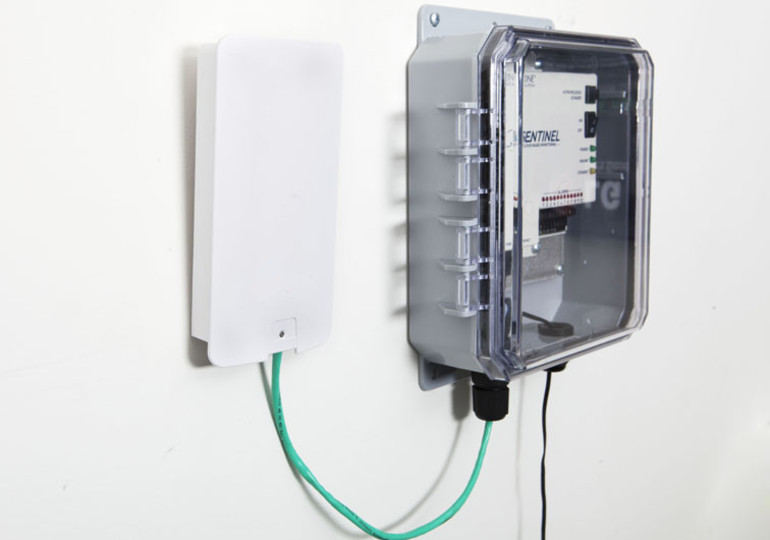 If you own one of our remote environmental monitoring systems that depend on an Ethernet connection, you already know how simple it is to monitor and log data about crucial conditions in any location. Customers who wanted to monitor remote locations well out of reach of their Ethernet connection often had to get creative and run wires from the original Ethernet port to the location of choice, resulting in installation fees and the not-so-pretty sight of cables and wires snaking across a property.

But thankfully, that's changed.
Wireless Connection Made Easy
Sensaphone now proudly offers our Ethernet-to-WiFi Adapter, whose compact, sleek design belies its powerful capabilities. The adapter is an 802.11 wireless bridge and access point, operating on 2.4 GHZ, that allows you to wirelessly connect your Sensaphone device (including Sentinel, WEB600, IMS-1000, IMS-4000 and WSG30) to your Ethernet, saving you the time and cost of installation.
The adapter can be connected to your Sensaphone device via an Ethernet cable up to 300 feet long. The adapter, in turn, connects to a wireless router (programmable via software), allowing the Sensaphone to connect to the wireless network. The adapter comes with everything you need to add wireless connectivity to a wired Sensaphone device, include a power-over-Ethernet kit with a POE injector, power adapter and mast mount kit (binding strap included).
The adapter is housed in an IP65-rated weatherproof enclosure that can withstand harsh climates and environments, making it an especially prudent solution for monitoring systems located in remote, rugged areas. Of course, the adapter is just as suitable for indoor environments that may be located in a spot where Ethernet connection is impractical, such as a greenhouse or other outdoor building. No matter the application, the Ethernet-to-WiFi Adapter will make the installation of any networked Sensaphone simpler.
At Sensaphone, our process of constant innovation drives us to perfect our products for the greater convenience of our customers. Our Ethernet-to-WiFi Adapter is just one example of the end result. Stay tuned for further innovations, and don't hesitate to suggest them by contacting us at 877-373-2700.