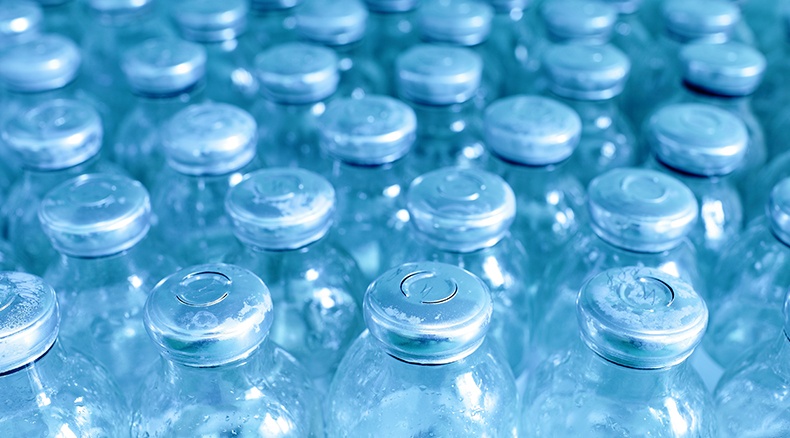 If you are responsible for inventory stored in commercial refrigerators and freezers, temperature monitoring, immediate alarm notification and secure data logging are essential. Whether you are storing food products or pharmaceuticals, these units can contain assets worth hundreds or thousands of dollars. And holding these products at the wrong temperatures can compromise quality and lead to serious consequences like food-borne illnesses or unviable medications.
Wireless Monitoring Systems
A wireless monitoring system is a good option for many locations because it eliminates the need for hardwiring sensors to the base unit. Wireless systems provide an easy, flexible solution that's ideal for areas where running wires is difficult.
A wireless temperature sensor is a key component when these systems are used in cold storage applications. When you use a wireless temperature sensor in conjunction with a bottle filled with glass beads or glycol, you'll receive a reading that represents the temperature of the contents inside the refrigerator or freezer, rather than the ambient air temperature. The bottled sensor buffers momentary temperature fluctuations caused by defrost cycles, opening of doors and fans circulating air. That means you get accurate temperature readings of your stored products—not of the surrounding air.
Bottled wireless temperature sensors also prevent the monitoring system from issuing unnecessary alarms. That's because the glass beads or glycol slow the response time of the sensor, allowing normal daily operations to occur without triggering an alarm.
You can place the wireless temperature sensor up to 300 feet away from the base unit or further if you use multiple sensors to create a mesh network. They measure temperature from -58° to 176° F (-50° to 80° C).
Food Cold Storage
Wireless temperature sensors are ideal for monitoring refrigerators and freezers in a variety of locations and industries, including:
Food manufacturing
Processing and storage facilities
Research and testing laboratories
Food service and retail locations
They help to maintain compliance with government regulations like the FDA's Food Safety Modernization Act (FSMA). Key guidelines of FSMA include monitoring and documenting temperatures to verify that food never reached the temperature danger zone—the range at which harmful microorganisms grow.

Medical Cold Storage
Temperature is the most important consideration when storing pharmaceuticals, and each drug has its unique requirements. Some need refrigeration, others must be kept well below freezing, and others can lose strength if they are frozen.
For example, the CDC is specific about vaccine storage procedures in its Vaccine Storage and Handling Toolkit. It emphasizes the importance of constantly monitoring the temperature of storage units and taking immediate corrective action when the temperature goes outside the recommended range. If a facility can't be certain that vaccines remained within the range, they are advised to discard them.
It's important to note that a wireless temperature sensor in a glycol-filled bottle meets CDC recommendations on thermometers used to monitor the temperature of vaccines stored in medical refrigerators. And regulators often require these over bottles filled with glass beads.
NIST Certification
To help customers who are responsible for storing vaccines, pharmaceuticals and other cold medical inventory, Sensaphone offers wireless temperature sensors that carry Traceable Calibration Certificates. These certificates indicate that the sensors are traceable to standards provided by the National Institute of Standards and Technology (NIST), a U.S. Commerce Department agency. These certificates ensure that a laboratory or manufacturer is fully equipped to calibrate equipment to NIST standards and that products offered by that manufacturer match the NIST-maintained measurement criteria.
If you have specific questions about which wireless temperature sensor is right for your refrigerators and freezers, our support team is on hand to make a recommendation.