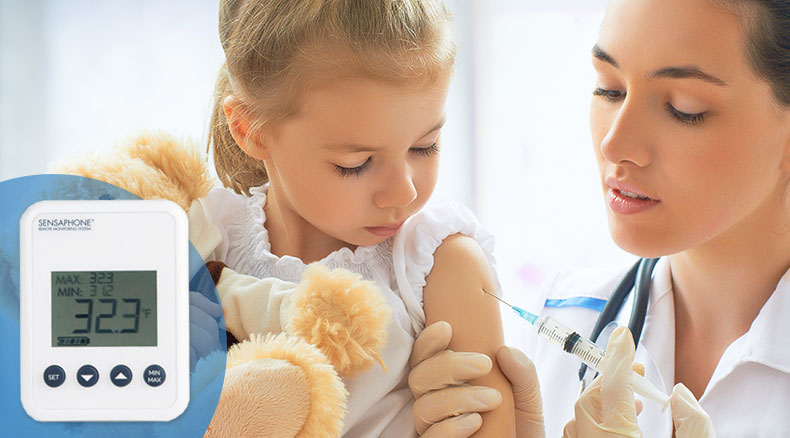 The CDC Vaccines for Children (VFC) program recently made its vaccine storage requirements more stringent. Now all refrigerators must be equipped with continuous temperature monitoring devices that data log high and low temperatures and clearly display the current temperature on the outside of the refrigerator. In addition, vaccine providers must use certified and calibrated monitoring devices. (View full requirements for CDC vaccine temperature monitoring.)
Sensaphone's Refrigerator Temperature Sensor with Display helps VFC participants comply with the new CDC requirements. The temperature sensor meets all VFC requirements and the display attaches to the outside of the refrigerator. When the temperature falls outside of the preset range, it triggers an audible alarm, immediately alerting onsite staff of a potential problem. The display's onsite alarm is in addition to the alerts that the Sensaphone monitoring system sends to designated personnel via phone call, email or text when temperatures fall out of range.
The device is ideal for vaccine providers and clinics that must have a local temperature display to meet CDC requirements. The display can also be used at any location where staff need a quick, at-a-glance reading of temperatures. It also functions as a data logger to demonstrate compliance.
The Refrigerator Temperature Sensor with Display
Comes as a kit, including the display, a temperature probe in a buffered bottle, plug in power supply and battery backup
Continually monitors refrigerator temperatures
Clearly displays the temperature outside the refrigerator
Logs and displays the programmed high and low temperatures
Provides an onsite audible alarm for out-of-range temperatures
Can be programmed to turn on a light or siren for additional onsite alarm notifications
Sensaphone recommends pairing the Temperature Display with a Sentinel Monitoring System to fully meet the VFC requirements. The Sentinel is capable of digitally storing logged data, minimum/maximum temperatures and programming all alarming. In addition, users can check on their vaccines at any time with any internet-connected device.
At-a-Glance Temperature Readings
The display provides a quick, at-a-glance reading of the current temperature as well as the minimum and maximum temperatures. This means that personnel no longer have to check the monitoring system's data logs.
Not only does the temperature display trigger an audible alarm, but the monitoring system also sends alerts to designated personnel when temperatures fall out of range. The display is easy to program by using the four buttons on the front. It connects to the sensor and to most Sensaphone monitoring devices via screw terminals on the bottom. The display comes with a plug in power supply and a battery that powers the device in the event of a power failure.