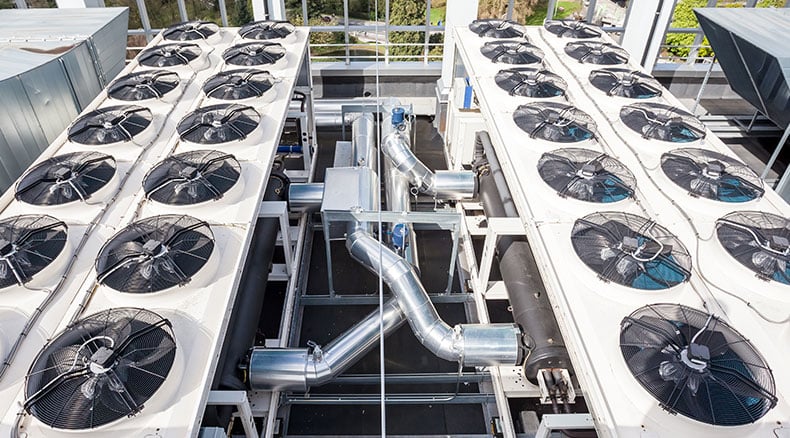 If you're responsible for the performance of your facility's HVAC equipment and the environment it regulates, you know that you can't keep watch over it 24/7. That's why monitoring HVAC performance with data loggers helps facility managers maintain operational efficiency and prevent costly downtime.
When using a remote monitoring system that includes a data logger, you and your team are notified immediately when a sensor detects a reading that goes outside of the preset range. This lets you take action before HVAC service is impacted and equipment and property are damaged. You reduce the costs and consequences of facility disruptions, repairs, replacement equipment and cleanup.
Using a Remote HVAC Monitoring System
Remote monitoring systems are an affordable, reliable way to make sure a facility's HVAC system is operating at top efficiency to keep people and property safe and comfortable. By pairing the system with sensors suited for your application, you can monitor:
Ambient temperature and humidity in rooms, hallways and other common areas
Water temperature in bathrooms, kitchens, labs and other areas
Power failure, water seepage, floods and intrusion
Boiler room water pressure
Commercial refrigerators and freezers
Timers and alarms
Monitoring HVAC Performance with Data Loggers
Ideally, you want to use a monitoring system that also includes a data logger. A data logger is an electronic device that checks sensor data at set time intervals with a time/date stamp.
Using a data logger to automatically record information helps you identify trends and patterns in equipment performance and environmental conditions. This data can provide insight into potential problems that you can address before they become disasters. For example, you could notice machine vibrations are falling out of the preset range. This could indicate the beginning of an equipment malfunction that your team can repair before total failure occurs.
Saving Time and Improving Efficiency
It takes a lot of employee time to manually monitor and record sensor parameters, and that time could be used for more important duties. If you are using a cloud-based monitoring system that has a mobile app, you can store unlimited amounts of data and access it any time on your smartphone, tablet or computer. Also, data from a remote monitoring system isn't subject to human error, and it is protected by higher-level security protocols.
In addition, the data logger makes it easy to maintain records and generate time- and sensor-specific reports. This is especially useful when you're required to report on operating conditions or demonstrate compliance.

Introducing Stratus EMS at AHR Expo 2019
At the AHR Expo in January 2019, we will introduce the new rack-mounted Stratus EMS remote monitoring system. With the Stratus EMS, you can access real-time status of all monitored equipment and environmental conditions from a smartphone, tablet or computer. If you are attending the expo, be sure to visit us in exhibit hall C, booth C5124 to learn more about the new system.
The Stratus EMS can monitor up to 64 Modbus registers and 12 universal digital or analog inputs for HVAC equipment, boilers, chillers, refrigeration and cold storage units. The system can monitor virtually any critical condition, including temperatures from -109 °F to 168 °F (-85 °C to 76 °C), humidity, pressure, pH, conductivity, power or equipment failure, vibration and water leakage. Because it supports Modbus RTU/485 and Modbus TCP, the Stratus EMS can read data from building automation and uninterruptible power supply systems.

If you're interested in monitoring HVAC performance with data loggers, our support team would be happy to help you select the best system for your HVAC application.